KIRBY ROOF (KR) & KIRBY WALL (KW) (AVAILABLE IN ALL REGIONS)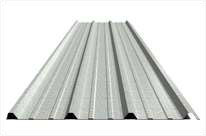 Kirby standard steel panels are 0.5 mm or 0.6 mm thick and have a minimum yield strength of 345 MPa. Steel panels are hot dipped and galvanized with zinc or zinc-aluminium coating. Galvanized materials conform to G90 for 275 grams per square metre according to ASTM A653. Zinc-Aluminium coated materials conform to AZ150 according to ASTM A792.
Kirby panels are prepared with a multilayered coating system to ensure long life and optimum coating adherence. The base material is pretreated, before applying a corrosion resistant primer and top coat. The combined thickness of the painted film is 25 microns on the front side and 12 microns on the reverse side.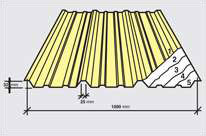 Kirby Roof profile is strong and cost effective and was developed specifically for roofing applications. The bearing leg design permits easier installation and maintenance, supports thicker layers of insulation and allows easier curvature for a visually appealing finish.
Eave struts are 200 mm deep with a 104 mm wide top flange, a 118 mm wide bottom flange, both are formed parallel to the roof slope. Each flange has a 24 mm stiffener lip. These are located along the sidewall; at the intersection of the planes of the roof and wall. It is constructed from cold formed C-Section and is rolled to suit the roof slope. This member transmits longitudinal wind force on the end walls from roof brace rods to wall brace rods.
| | | | | | |
| --- | --- | --- | --- | --- | --- |
| Coverage Arear | : | 1000 mm | Rib Depth | : | 32 mm |
Kirby Wall is a cost effective, partially concealed fastener panel with a sculptured valley shape between the major ribs for a superior architectural look for external walls.
| | | | | | |
| --- | --- | --- | --- | --- | --- |
| Coverage Arear | : | 1000 mm | Rib Depth | : | 26 mm |

CONCEALED FASTENER (MIDDLE EAST & AFRICA REGION ONLY)

Concealed Fastener Single Skin Cladding (TYPE KC)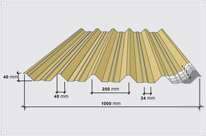 The concealed fastener single skin cladding type KC is used for exterior wall cladding and internal wall and roof liners. The panels have interlocking tongue and groove joints. The standard panels are available in 0.6 mm nominal thickness.
Concealed Fastener Sandwich Panel Cladding (Type KCIP)

The Kirby concealed fastener insulated panel cladding system KCIP consists of insulated panels with generally flat outer and inner facings. The panels have interlocking tongue and groove joints with fasteners concealed within the joints. The specification of the panel facings is same as for single skin KC panels. This system has very low heat transmission values, a high strength to weight ratio and are quick to assemble, hence provide a cost effective solution on a wide range of cladding applications.
STANDING SEAM ROOF SYSTEMS
KSS 600 (India Region Only)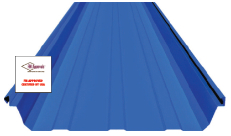 Kirby Standing Seam Panel systems (KSS-600), with double lock standing seam, eliminates the risk of leakage at fasteners at side and end provides excellent protection in all weather conditions. It assures consistent weather tightness with virtually maintenace free performance for many years.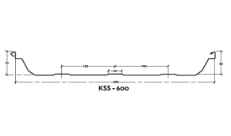 The KSS-600 roof system is the most specified seam roof system in the market since many Kirby's KSS-600 Standing Seam Roof System has received the prestigious Factory Mutual Approval (FM approval) from USA. The FM approval is a certification for the high product quality and reliability of this roofing system.
KSS 450 (India and South East Asia region only)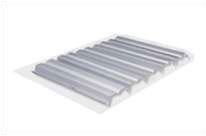 Kirby Deck Panels are used in high rise buildings, office buildings and mezzanine floors in industrial buildings and warehouses. These decks can be used as a permanent shuttering to support the wet concrete and help in creating composite slabs and floor beams. The continuous flange stiffeners and deep embossments increase the load carrying capacities. They provide for a stable and rigid working platform without any need of propping. These panels are roll formed from hot dip galvanized coils of 345 MPa with thickness starting from 0.6 mm to 1.2 mm.
Kirby Deck with 40 mm and 41 mm depth (Middle East & Africa region only)
Kirby Deck with 54 mm depth & Kirby Deck with 75 mm depth (India region only)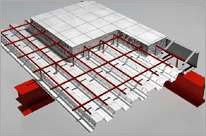 Kirby Deck with 55 mm depth (South East Asia region)
CURVED CLADDING
This type of cladding uses the Kirby Roof profile with width coverage of 1 m and a variable curve radius. They also add an extra advantage to the aesthetics of the building.
KIRBY STANDARD COLORS
Arctic White, Caribbean Blue, Desert Beige, Sun Gold, Autumn Green, Galvalume/AluZinc