KIRBY EDGE
Since 1976, Kirby has been a major force in the steel design, detailing and fabrication business in the Middle East, India, South East Asia, Africa and many other regions. Our development of innovative processes and materials has solidified our reputation as a high-quality, structural steel fabricator across diverse applications.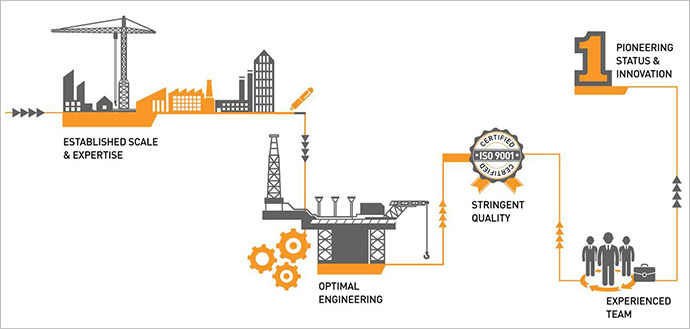 KIRBY EDGE
Our size allows us to partner with contractors on complex projects and meet their schedule requirements. Our facilities include the latest equipment and support, complete blast and sophisticated paint operations. We have over 2 million square feet of enclosed production space and sufficient assembly yard space, across multiple locations, to easily handle even the most complex projects. We are proud to say that we have delivered the world's largest PEB building. With over 70 offices and 250 builders worldwide, Kirby engineers are always available to support all its customers, whenever and wherever required.
OPTIMAL ENGINEERING
Our engineering department uses the latest versions of internationally-renowned industry standard 3D and 2D software and is well-versed with international, British, American, European and other standards. Our engineering team has decades of design and detailing experience and and will be able to assist you in design and subsequent fabrication of the components as per your requirement.
STRINGENT QUALITY
Our plants are equipped with the latest steel processing equipment, capable of handling some of the largest section sizes available. Kirby is IS0 9001 certified and implements strict Quality Assurance and Quality Control systems. The standard internal inspection and test programs have been developed to comply with the standard industry requirements and can also be modified to suit specific contract requirements.
EXPERIENCED TEAM
We are managed by a team of professionals with extensive experience in the steel industry. The expertise of our sales team is unrivalled in the steel buildings industry. Their knowledge can assist you in selecting the most cost-effective option for your requirements.
PIONEERING STATUS & INNOVATION
We were the first company to introduce PEB technology in the GCC region in 1976 and the first multinational to enter the PEB industry in the Indian Sub-Continent. Within a short span, PEB is revolutionizing the construction industry in these regions and Kirby is leading this revolution from the front with its constant innovation in products and applications. We have received many accolades as recognition for our relentless efforts for excellence in our industry.
Milestones & Achievements
Centre Of Engineering Excellence