Exciting Highlights from Kirby Southeast Asia's Q2 2023 Townhall Meeting!
Kirby Southeast Asia recently held its highly anticipated Townhall Meeting for Quarter 2 of 2023, bringing together employees from all levels of the organization. The event was filled with informative updates, employee recognition, exciting promotions, introductions of talented Gen Z newcomers, and a delightful buffet.
📊 Business Update: The Townhall Meeting kicked off with a comprehensive business update, led by our esteemed leaders. They shared key insights on the company's progress, market trends, and upcoming projects. The engaging presentation highlighted our continued growth and emphasized the importance of collaboration to achieve our goals.
👏 Employee Recognition: A special moment during the Townhall Meeting was dedicated to acknowledging the exceptional contributions of our outstanding team members. Through their hard work, dedication, and innovative thinking, they have played an instrumental role in driving our success. Their achievements were celebrated, inspiring others to strive for greatness.
🎉 Employee Promotion: Another highlight of the event was the announcement of well-deserved employee promotions. Several talented individuals were recognized for their continuous growth, exceptional performance, and commitment to excellence. These promotions are a testament to our firm belief in nurturing talent and providing opportunities for career progression within the organization.
🌟 Introducing Our Gen Z Newcomers: Kirby Southeast Asia takes pride in fostering a diverse and inclusive work environment. During the Townhall Meeting, we had the pleasure of introducing the newest members of our team, who happen to be talented and dynamic individuals from Generation Z. Their fresh perspectives and innovative ideas will undoubtedly contribute to our ongoing success.
🍽️ Buffet Delight: To foster camaraderie and create a vibrant atmosphere, a delectable buffet was prepared for everyone to enjoy. This provided an opportunity for colleagues to connect, share experiences, and strengthen relationships in a relaxed setting.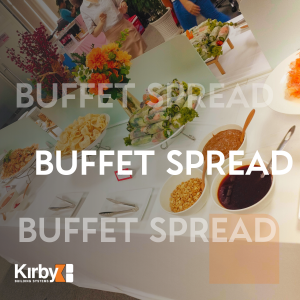 We extend our gratitude to all the employees who made the Townhall Meeting a resounding success. Their enthusiasm, engagement, and unwavering commitment to Kirby Southeast Asia's vision continue to propel us toward greatness.
As we move forward, we remain dedicated to empowering our employees, fostering a dynamic work culture, and delivering exceptional services to our valued clients. Together, we will conquer new horizons and achieve even greater milestones.